Written by News Feature Team
If you have made the decision to travel New Zealand's North Island for your next campervan adventure, then you are no doubt in for an amazing experience. Featuring miles of open roadway and some of the most remote, rugged scenery in the world, the North Island truly is a paradise for road trippers. Even if you are traveling on a tight budget, the North island has plenty of wonderful activities that are absolutely free, so keep the following free activities in mind once you've secured your Apollo campervan hire and are ready to hit the Island.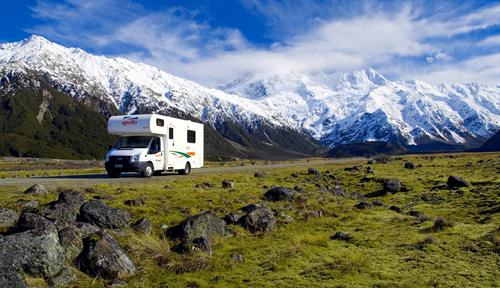 Hiking
Although there are many guided tours and paid expeditions available on the Island, including whitewater rafting and mountain climbing expeditions, the budget traveler will find much to enjoy on independent hiking expeditions. Don't forget that this is some of the most majestic terrain in the world, and one of the many great things about hiking is that most trails are open to anyone. This is definitely the case on the North Island. No matter if it's in mountainous regions, forests, or meadows, you can set off whenever you please for a survey of the land. For the budget traveler, hiking will always be a free way to see the sights and enjoy the wonders of the North island.
Rafting
The North Island is home to some of the absolute best white water rafting in the world. Individuals come from all over the world to experience the rivers and streams of New Zealand. Of course there are many options for paid guided tours and routes, not to mention raft rentals, but as long as you bring your own raft you can absolutely hit the water for free at many of the Island's best spots. Don't forget that this is an uncrowded and remote terrain, leaving long stretches of river free to do as you wish. So go ahead and strap some rafts on top of your campervan and hit some of the best rafting the world has to offer.
Hot Water Beach
You don't need to spend a dime to hit up the famous Hot Water Beach. This beach is open to the public and is fed by underground hot water springs. You can swim in the ocean for as long as you would like, and then hit the beach and dig yourself a hole in the sand which will fill up with nice hot water that you can take a relaxing soak in. There really is no other beach like this one, and a traveler on a budget can enjoy it for absolutely free.
Mission Estate Winery
New Zealand is known for its wine, and there are wine tasting locations available all over the country. Located in Napier, the Mission Estate Winery has amazing views and free wine tasting served by a very friendly staff. You can stroll the scenic grounds, enjoy the views, and enjoy some fine wine, and if you land at the right time you may even get some free music too.
The North Island can indeed be explored and enjoyed by campers on a budget. With the abundance of free activities, you are sure to find plenty to enjoy in one of the planet's most scenic destinations.