Monkey Mia: How to Get There and What to Do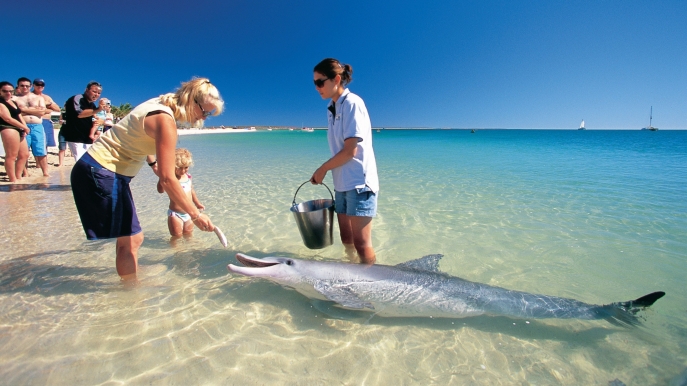 Hey, it's your vacation time. You deserve to let go and have a little fun. Whether you choose to road trip in a motorhome hire throughout Australia or you want to go to a top vacation destination, don't forget to have the time of your life.


Whether you're traveling with family or with friends, there is this ideal destination for those who want to experience a bit of what an Australian paradise feels like. Monkey Mia may at first sound like some kind of cute Disney movie, but it is in fact one of the most beautiful destinations that you could choose to visit in the Down Under.

First of all, you may want to know where it's at before you go. Located on Peron Peninsula, north of Perth, it is relatively easy to get to. If you're flying into Perth, you can do one of two things. Book a quick 2 hour flight from Perth or plan a day-trip in a vehicle from Perth to the Monkey Mia Reserve.


What to Do


Once you're there, you'll want to partake in all there is to see and do in the area. To help you plan an experience that you won't soon forget, consider the following places and things to do:


Visit Shell Beach. Forget soaking your feet in the sand when visiting Shell Beach. This beach is made up of a bunch (billions) of shells. It's a beautiful scene to see and definitely worth your time. It's not every day that you can visit a beach like this one.

Get to know bottlenose dolphins. You can join in on some tours where you can feed dolphins. They will get close to the edge of the water, giving you an opportunity to get close. Or, you can book a visit out to open waters and see them from above.

Observe the abundance of marine life. You can get to know more than just the dolphins when you visit this area. If you're an animal fanatic, you should definitely take the opportunity to take a wildlife cruise. From whales to sharks and sting rays, as well as a vast array of fish species, you can either take a tour to see these animals from above or dive near Dirk Hartog. Just be aware that the currents are strong around here, so make sure that you and most importantly, your instructor, are experienced.

Enjoy learning about the local aboriginal people. Shark Bay (near to Monkey Mia) is home to Aboriginal people. Malgana, Nhanda, and Yingkarta are the ones that you can get to know while visiting. With a myriad of ancient sites and artefacts, you can get to know many burial sites and camp sites. Make sure not to disturb any place that you visit, as this is illegal and also disrespectful to this unique native Australian culture and people.

Enjoy wildflower country! If you love flowers, you´ll definitely want to go on the paths and visit the places that are full of wildflowers. In fact, some people even choose to go on tours to see wildflower country in Monkey Mia. Make sure to bring your camera for a fabulous photo opportunity. After a day spent getting your fill of wildflowers, go home to your motorhome hire and get some rest before another day of adventure and beauty.

Ride a camel and admire pristine waters. What? Yes, you can ride camels along the coastline if you so desire. If you're looking for a unique experience during your Australian road trip, this may be it.

Go kayaking in the Monkey Mia Marine Reserve waters. While much of the ocean in this area tends to have some wild waves going on, there are places where you can kayak. Shark Bay is the top beach for going on this adventure, as the waters are typically calm, whereas in other areas, you may find the ocean calm as can be and crazy wild the next minute.

Anyone who wants to enjoy a beach vacation should visit the Monkey Mia area, but those who are passionate about marine wildlife will definitely enjoy a visit here. If you're traveling with your children, they may love to get to know the bottlenose dolphins.

Whether you're taking a break on your own or with loved ones, this is a great place to spend holidays and vacations. There is plenty to see and do.

If you choose to travel in a motorhome hire from Perth to Monkey Mia, don't miss out on seeing things along the way. As in many areas of Australia, this is a beautiful route. Enjoy experiencing something new by visiting Monkey Mia. Whether you go on a camel trek or you do some scuba diving, you can be sure that it will be a rewarding experience.