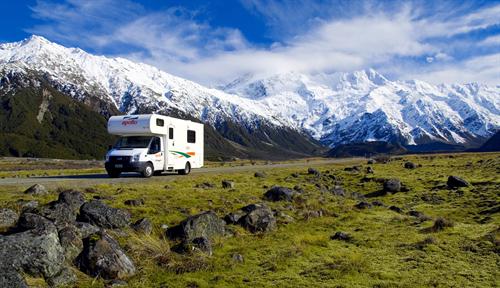 As you plan to tour New Zealand in your motorhome, your primary focus might be on designing your itinerary and selecting the sites you want to see during your road trip. Safety should also be a focus as you prepare to hit the road. One way to maximize your safety on the road is to understand New Zealand's traffic rules. If you've never driven a motorhome hire New Zealand through the country before, you will encounter some driving differences between New Zealand and other countries. Learn more about what to expect when driving in New Zealand, and learn the rules of the road before you depart on your adventure.
Understanding New Zealand Roadways
If you're used to driving on multi-lane interstates, then New Zealand's roadways will surprise you. The country doesn't have many of these roads and instead features primarily two-lane roads. Many of these roads are narrow, winding, and steep. As a result of this design, road trips in New Zealand may take longer than you expect. So, always build in extra time for your journey, keeping in mind that you will have to slow down to safely navigate these roads.
New Zealand Driving Basics
1. Left Driving
Depending on where you're visiting from, the biggest difference when driving your motorhome hire New Zealand will be that you drive on the left-hand side of the road. If you're visiting from the U.S. or another country where you drive on the right side of the road, this transition can be challenging to get used to. Keep an eye on the centre dotted lines on many roadways to help guide you. Keep in mind that you will always be on the left, which means the driver should be closest to this centre line. Pay special attention when you're turning onto a new road -- your driving instincts might tell you to shift to the right. Always be cognisant of keeping to the left when turning or moving through intersections.
2. Passing
The lines on the road indicate whether you can pass in that area. Solid yellow lines mean no passing is permitted. Dotted lines on roads indicate that you're in a passing zone. The New Zealand Transport Agency explains that passing in these zones is permissible only when you can see that you have at least 100 metres of clearance.
3. Speed Limits
Like in other countries, speed limit signs will be posted along the roadway. Always abide by these speed limits. Keep in mind that New Zealand traffic rules lower the speed limit for any vehicle that weighs more than 3,500 kg, which may include your motorhome. If you exceed this weight limit, you must drive a maximum of 90 kilometres/hour in areas with a 100 kilometres/hour speed limit.
4. Traffic Signs
In addition to speed limit signs, other traffic signs can warn you of changing driving conditions. Always keep an eye out for yellow signs that can indicate you're approaching a hard-to-navigate curve. Typically, these signs will include a number as well as arrows. The number indicates the speed limit of the curve, and the arrows show the direction of the curve. These signs help prepare you for the road ahead.
Red stop signs require a complete stop. Red and white Give Way signs require you to yield to any oncoming traffic before entering the roadway. If you encounter a roundabout, you'll likely see a sign indicating the path to take. Give way to traffic on your right, and always move in a clockwise direction.
If you're driving during rainy or icy conditions, keep an eye out for the slippery surface sign. This yellow sign features a tilted vehicle and winding lanes. It indicates that you're travelling on a road that gets slippery during wet or icy conditions, when requires extra caution when driving.
5. Seat Belts and Car Seats
Wearing seat belts is required in New Zealand. Children aged 8 and over can use the car's seat belt. Children 7 and under must be in an approved child restraint whenever you're on the road.
6. Phones and Driving
Handheld phones are not allowed when you're behind the wheel in New Zealand. You can talk on a hands-free phone when driving. Texting while driving is illegal.
7. Driver's Licence
You do not have to obtain a special license to operate your motorhome hire during your New Zealand road trip. However, you do need to have your license on hand any time you're behind the wheel.

Safe travels during your New Zealand road trip begin with understanding the rules of the road. By knowing local laws and recognizing traffic signs designed to maximise your safety, you're reducing the risk of an accident in your motorhome hire New Zealand. Now that you know the basics, you're ready to begin a road trip of a lifetime.