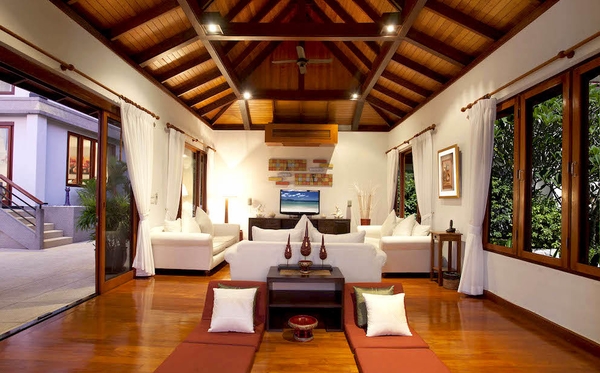 Resting high on the tranquil Ayara Surin hillside estate in the Surin Beach area is Villa Baan Bon Khao. Ideal for family and friends, the four-bedroom retreat offers breathtaking Andaman sea views, magical sunsets and elegant evenings. 
The villa combines Northern Thai aesthetics and modern style, which can be seen from its peak-roofed pavilions and walnut timber floorings throughout. A 12-metre infinity pool forms the villa's central focus and its surrounding open-terrace provide an ideal spot for sunset sundowners and breezy alfresco meals.
A beautiful blend of Asian, Thai and modern decor such as Buddhist-themed artwork gives every room a unique personality while an extensive use of wood, especially in the vaulted ceilings, adds a sense of majesty and warmth. The inviting dining room, like the cosy living room, enjoys superb sea vistas. Each sumptuous bedroom is a private sanctuary with a sea-view jacuzzi or a bathtub. 
A professional full team of staff including a villa manager, private chef and housekeepers are around the clock to provide exemplary service customised to your needs. And, whether you are looking for a quick hop to the nearby beach or sightseeing, a driver and a comfortable minivan are on standby to take care of your transport needs. If you can stray from the comfort of your villa, swanky spas, gourmet restaurants and fashionable boutiques are all within easy reach.
With its idyllic settings, awe-inspiring sea views and warm service, Villa Baan Bon Khao is a perfect place to completely enjoy the best of Phuket island.

Holiday Bookings can be made at HolidayCentre.com
About Elite Havens - Luxury Villa Rentals
Elite Havens Luxury Villa Rentals is Asia's market leader in high-end holiday villa vacations handling over 60,000 guests a year. Established in 1998 the company has curated a spectacular collection of over 200 private luxury villas in Bali, Lombok, Phuket, Sri Lanka and the Maldives. Offering a diverse range of holiday experiences from absolute beachfront to rural escapes; from honeymoon hideaways to 9-bedroom party pads; and from contemporary funk to traditional chic, all Elite Havens properties are staffed to the highest level including villa managers, gourmet chefs and personal butlers.