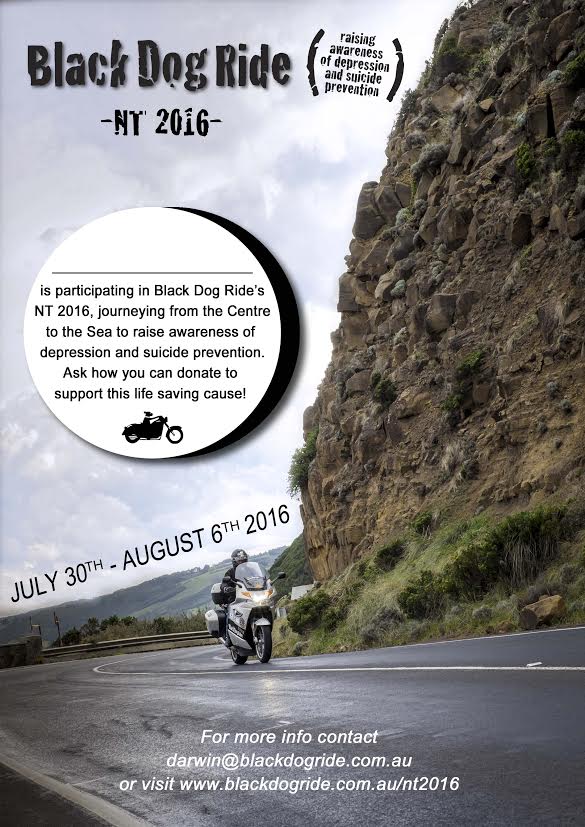 Territorians Journey from the Centre to the Sea for Suicide Prevention
Three rides are going to leave Darwin this Wednesday (27th July) to head down south to Alice Springs. To join up with dozens of other riders, for a one day ride before the long ride starts.
Black Dog Ride NT 2016 is about to kick off. This epic week long motorcycle ride from Alice Springs to Darwin, which aims to put a spotlight on suicide prevention in the Northern Territory.
Black Dog Ride, now in its seventh year, is a national suicide prevention charity whose mission is to raise awareness of depression and suicide prevention. Funds raised by Black Dog Riders during NT2016 will fund Mental Health First Aid's Teen Program training in Australian secondary schools, and continue to build the capacity of Lifeline's online Crisis Support Chat service.
Participants in NT 2016 will depart Alice Springs on 31st July, arriving in Darwin on 5th August, meeting with Traditional Owners en route and visiting regional communities to shine a beacon of hope amidst the despair of suicide and promoting awareness of suicide prevention strategies
NT 2016
http://www.blackdogride.com.au/view/upcomingrides/nt2016
https://blackdogrident2016.eventbrite.com.au
Authors: News
Read more http://www.viw.com.au/index.php/news/4309-black-dog-ride-nt-2016-is-about-to-kick-off